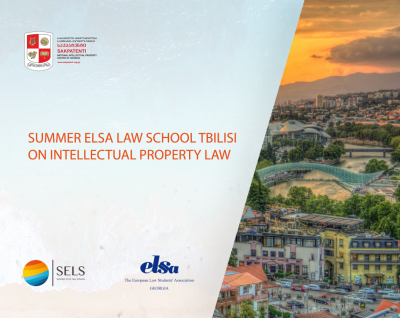 Summer ELSA Law School Tbilisi on Intellectual Property Law
We are delighted to welcome you to the fifth edition of Summer ELSA Law School Tbilisi on Intellectual Property Law. Nowadays Intellectual Property Law is one of the most growing areas of law, as well as today's technology, which gives us unique tools to express ourselves as a work of art and at the same time the risk that one's creation will be stolen is high as never. Have you ever wondered what does the legal term Copyright refers to and where does the magic of this mysterious symbol © start?
What kind of rights do the creators have over their literary and artistic works? What are my rights as an author of the work and what are my rights and obligations as a consumer? During one week spent in Georgia as a participant of SELS Tbilisi on Intellectual Property law, you will be able to clearly answer to abovementioned questions, but you will have a chance to acknowledge the opportunities that characterize Intellectual Property and most discussed challenges about Copyright Infringement in today's complex global environment.
Do not miss your chance to broaden your knowledge in the area of Intellectual Property Law and explore the unique Georgian culture full of festive spirit!
Make sure to Apply before the 17.04.23 23:59 CEST.