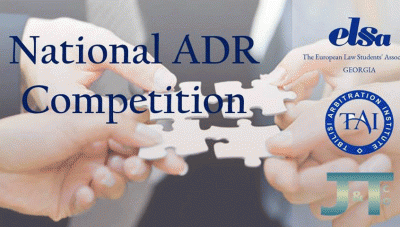 European Law Students Association Georgia (ELSA GEORGIA), with Tbilisi Arbitration Institute and JC Company, offers the National Competition in alternative ways of dispute settlement.
This project is a novelty, which provides an in-depth study of alternative ways of dispute settlement in Georgia, with the development of legal skills in students and development of reasonable discussion skills.
Participants in the project can take part in the students of the Faculty of Bachelor's and Master's Faculty of Private and Public Higher Education Institutions of Georgia.
The team will have 6 teams, each team must consist of three members.
On the theoretical stage of the project (17-23 March) teams will be given one week training on the following issues:
* Training on alternative ways of dispute settlement, general overview.
* The essence of mediation and basic principles.
* Mediation process phases
* The notion of arbitration, its faces and place in the judiciary system.
* Prerequisites for the authenticity of the arbitration agreement
(Essential terms, form, arbitration)
* Recognition and enforcement of arbitration decision
* Invalid, invalid, disability impossible
Arbitration agreements with defects and their explanation according to the law used
* The significance of negotiations, its predominant and shortcomings
* 10 major tricks of negotiations
The Practical Stage of the Project includes three stages: mock negotiations (30 March), Mediation (April 4) and Arbitration Process (April 14).
It is noteworthy that all participating teams will be able to go through all three stages, and the same case will be discussed at all three trials, and the participants will change their opponents and their parties. This structure perfectly demonstrates the effectiveness of theoretical training courses, as the participants should be able to effectively adjust the corresponding amplitude with their help.
The winner will be revealed through the sum of points earned in all three stages.
*** Participation in the project is paid.
Elsa's team for 20 GEL.
For non-Russians - 30 GEL.
In order to participate in the project, the teams must fill the application up to March 15, on the following address:
https://goo.gl/forms/n6mMRg2Nmi1Iem4m1
Prizes:
> Each member of the participating teams will receive the certificate confirming participation.
> The teams will be given legal literature.
> The winner team will receive a symbolic prize from Elsa Georgia.
> One of the best participants in the legal company is to take up a legal company in J & K Consulting.
> Two participants of the Tbilisi Arbitration Institute will pass in the Tbilisi Arbitration Institute.
For more information, please contact:
✆555 75 76 89
Mariam Burkadze
Project manager
✆ 598 41 98 96
✉ academicactivities@ge.elsa.org
Ekaterine Dvalishvili
Vice-president in academic activities
I wish you good luck with Elsa!
Cold, Salome, Ekaterine, Eto, Lisa